In the summer of 2018, art gallery owner and auctioneer David Killen purchased a storage unit filled with art that was considered unremarkable. Ashe emptied the unit out, he noticed a box marked "de Kooning pulloffs."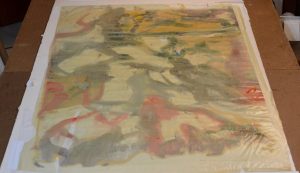 David Killen called me to take a look at them, knowing that not only am I an art conservator, but that I also worked in de Kooning's studio early in my career. I followed that with working for Orrin Riley, a world-renowned restorer who had worked on de Koonings – and whose storage unit the paintings were found in. As soon as I saw the lot, I knew they were real. When I first looked at them I could only see a corner, I could tell right away they had Bill's style and his materials – the type of vellum he used and in right the size. Plus there was green glassine that he used, and I don't think they even make it any more.
It took 3 or 4 weeks to get the glassine off the works to free up the art. Then there was no question in my mind.
Here's the story as reported by Katherin McGrath in Architectural Digest
And here is the East Hampton Star's article.