What Our Clients Say: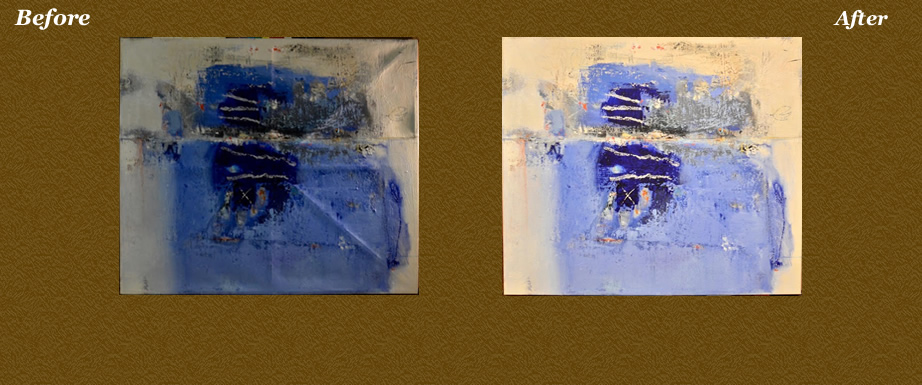 I shipped a painting of mine that had been sold to a couple in East Hampton and it arrived in terrible shape with impressions of the strainer on the front of the painting and looked to be a total loss.
After some research, I happily learned of Lawrence Castagna Art Conservation located right there in East Hampton! Somehow I knew that he would be the answer to my problem. After investigating the damage, Lawrence carefully removed the canvas from its strainer. Armed with his expertise, perseverance and determination, he used several processes and materials using moistened blotters, sanding, Beva film, Belgian Airplane linen, a vacuum table and several weeks of time, he coaxed the canvas to a relaxed state and was able to attach it to a new, professional stretcher and rescue the work. It now hangs happily in its new home! He is a magician!
— Sharon Booma
---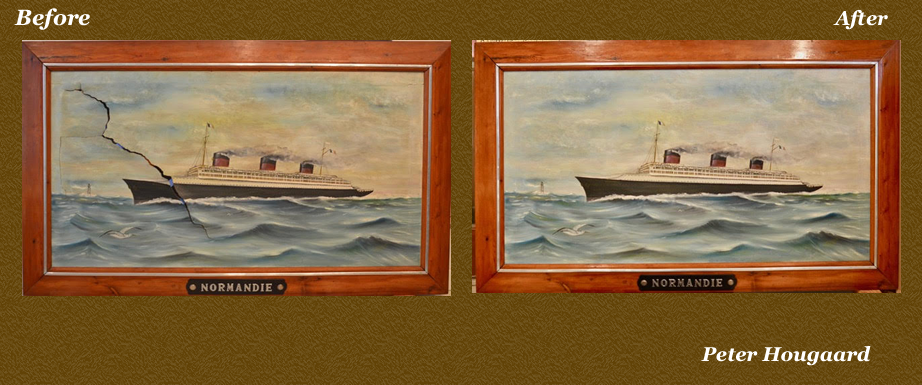 I shipped a large painting from Florida to NY. When the painting arrived it had three major cuts in it from left to right. In addition, there were other areas that were damaged. I thought my husband's favorite painting was destined to go to the garbage dump.
After interviewing several restorers, I selected Lawrence Castagna to restore the painting. I felt he was honest in his estimate and realistic in the time it would take to repair the painting.
He did a beautiful job. When I look at the painting today I really have no memory of the terrible mess the painting was in at the time of delivery. I highly recommend Lawrence Castagna and found him to be an expert restorer and lovely easy person to work with.
—Sheila Britz
---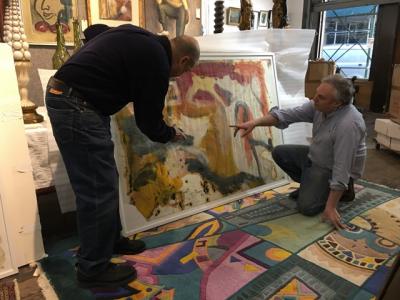 David Killen Gallery was thrilled and fortunate to find Lawrence Castagna. When we made worldwide headlines for finding 6 Willem De Kooning paintings, from the initial identification confirmation by Lawrence, to the restoration advice, to the backing of the largest 4 on canvas, to the restoration of the damaged parts, Lawrence was an invaluable resource and restoration mainstay that guided us through what the many news outlets called "one of the most important art discoveries of 2018." He will always be an important "go to" person for art needs for the gallery, in the years to come. We have sought his advice and restoration again from Rauschenberg to De Kooning and have always been impressed with his work.
— David Killen and Staff
---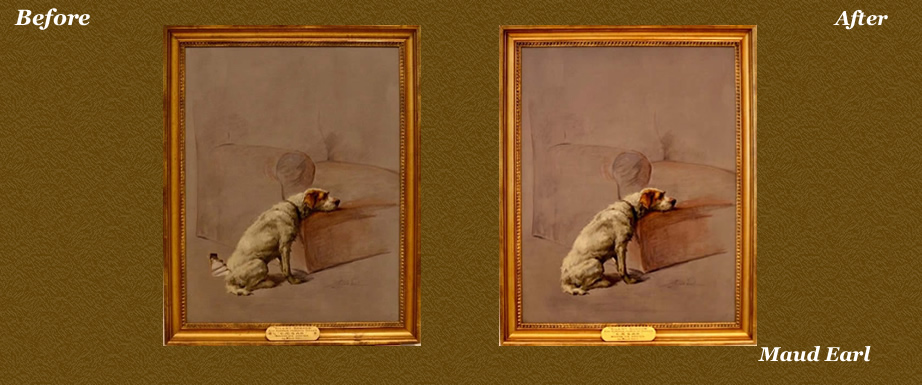 "The American Kennel Club has an extensive and valuable collection of 19th and 20th century canine art. The care of these works of art to maintain their value and beauty is critical. This has only been possible through the dedication and skill of Lawrence Castagna who has been restoring, repairing, and cleaning the irreplaceable works in AKC's collection for over a decade. We consider ourselves fortunate to have found this master restorer, and would not hesitate recommending him to anyone needing and seeking this type of unique talent."
— Dennis B Sprung, President and CEO
American Kennel Club
---
My wife and I purchased a valuable work of art at auction in New York. The three paintings had significant water damage and had been glued to a wood parlor screen in the late 1800's. Since we were bidding from the West Coast, it was necessary to have the name of a competent restoration person who could handle such a challenge in the New York area. Larry was without question, the favored one recommended to do such a job. We won the auction, I feel truly because of the obvious damage, and Larry got the job. The rest is history.
We now have three stunning individual paintings, restored to perfection, and of great collectable value. We could not recommend a more qualified person to take on any art restoration. Larry Castagna is a knowledgeable preservationist and could not be more highly respected by us and the art community he serves. We give him the highest regard and admiration for his talent and work ethic.
Thank you, Larry!
— Jim and Sharon Dok
Shelton, WA
---
"As an artist himself, Larry is sensitive to the individual character of each piece and respectful of its integrity. Everything he has conserved for us has been handled with the utmost care, and the results are superb."
— Helen A. Harrison, Director
Pollock-Krasner House and Study Center
---